1986 MORGAN 4x4
1986 Morgan 4×4 in very good mechanical condition with no rot or rust to the body and been serviced on a regular basis these are the actual pictures of the car
Always been garaged and the reason for selling it is I have acquired another sports car some six months ago rego till 02/22
I am open to all reasonable offers and would like this car to go to a good home.
Ray Balladone
Ph 0419 762 440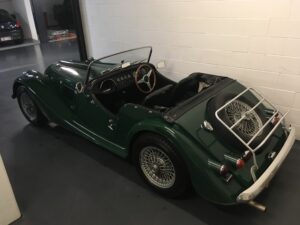 Morgan 4/4 Four Seater 1978 Provenance
Asking Price $55,000 Mileage 33,000 Miles
I bought this car from a private vendor in Luton, UK in October 2017. He told me that all the provenance had been destroyed by his French mistress in revenge after their relationship broke up. Since then I have managed to establish a large part of the history of this car.
THERE IS MUCH MORE HISTORY ON THIS VEHICLE WHICH IS AVAILAVBLE BY CONTACTING THE OWNER.
Phil & Jennifer Holden
Tel P +61 (0)413 970 123
Tel J +61 (0)434 618 114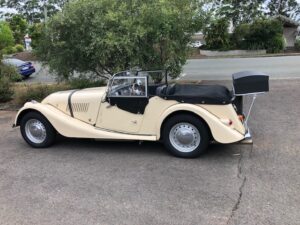 MORGAN WANTED
Roadster V6 or a late model + 8 must be a long door
I am upgrading "Lizzie" my 1988 4/4 4 seater which is based in Brisbane
Please phone me 0402 079 089
YES AT LAST CAN TRAVEL
Lyle Honess
MOQ REGALIA
Size: 79mm diameter, 96 wing tip to tip.

Colours: Black, Navy, Red, Grey.

Cork back quality coasters, 6 per box.

Colours: Blue, grey, black or yellow brushed cotton caps with yellow trim around, metal fastener. MOQ logo.

MOQ NUMBER PLATE SURROUNDS

$32 per pair

Sizes: Available in any combination wide and narrow.

Options: Have your shirt and jacket embroidered with either of the logos.

10th Anniversary Badge

$30