MORGAN + 8
A rare opportunity to acquire a one owner 1974 Plus 8.
The car was bought new by me through Victor Kaye of Museum Motors in Gisborne near Melbourne. Victor was the current Australian Morgan agent at that time.
I placed my order in February 1974, visited the factory in September to see it being built and took delivery in February 1975. It was my first new car and I started running it in on a joyous drive from Melbourne to my home in Brisbane.
I have enjoyed 65,250 trouble free miles with the Morgan – the drive-train remains completely original.
Colour is silver grey with gunmetal grey guards – it is a well-known car in the Morgan owners' clubs of Queensland, NSW and Victoria where the car was located with me in the late 1990s.
The car drives well and shows the patina of many years of enjoyment – it is loved by my family but as I am now in my late 70s I am finding it difficult to get in and out of so have made the difficult decision to sell my faithful Morgan.
Please call me on 0400 194 347 to discuss the car and arrange to it.
The Plus 8 is garaged in Brisbane; the asking price is $69,500 ono on an as is/where is basis.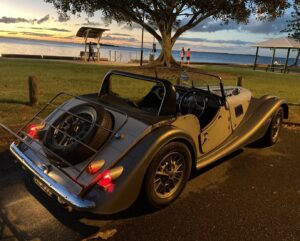 MORGAN + 4
1984 Morgan 4/4 2str 1600cc Ford Motor 75,000 klms 2 owners.
British Racing Green with black Interior wood grain dash plus many extras.
A genuine example of this model and is being sold due to aging of the owner.
Located on the Sunshine Coast price $55,000 ono.
Full history available.
Contact Eric on 54443093 or 0424 778087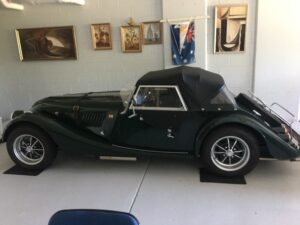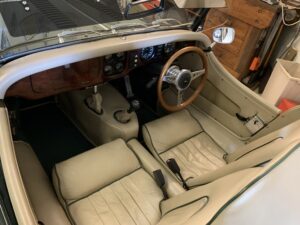 MOQ REGALIA
Size: 79mm diameter, 96 wing tip to tip.

Colours: Black, Navy, Red, Grey.

Cork back quality coasters, 6 per box.

Colours: Blue, grey, black or yellow brushed cotton caps with yellow trim around, metal fastener. MOQ logo.

MOQ NUMBER PLATE SURROUNDS

$32 per pair

Sizes: Available in any combination wide and narrow.

Options: Have your shirt and jacket embroidered with either of the logos.

10th Anniversary Badge

$30