CLASSIFIEDS
For Sale - 1955 Morgan Plus 4
Fully restored and improved – zero km since rebuild, nothing to spend for another 63 years, with concourse quality bright yellow paint. (restoration pics available – car at Newlan Coach Builders in Osborne Park, Perth).
Improvements include:
Stripped down to the smallest bolt and totally restored. New & stronger Tassy Oak timber frame, brand new aluminium panels hand made in Scotland in 2017.
Australian condition 4-core radiator replaced cooler climate 2 core Pommy radiator, electric fan, power assisted front disc brakes, electronic ignition, 12Volt alternator, stronger Landcruiser headlight bulbs, new original heater, two SU carburettors overhauled, original Standard engine, tweaked to 2.2 litre option, new pistons & valves to Triumph TR3A power and specs, zero km, sump guard, new fuel pump and fuel lines, upgraded heat & soundproofing on engine firewall against cabin, noisy & slow 4-speed crash Mog gear box replaced with smooth 5-speed Toyota synchro gear box to reduce unnecessary engine revs on freeways, replaced steering box, new wheel studs and narrow 16″ wheels and low-grip cross ply tyres replaced with 15″ wheels & and radial tyres, new front shock absorbers & lever-active rear shock absorbers replaced with modern shock absorbers to improve handling, two new 16″ spare tyres on display on rear panel, new engine exhaust system & hand-built display wooden steering wheel.
Contact – John Bell  P:  0409 116 936
Luggage Racks
$50.00 each – One painted silver and one painted dark blue.
Please contact Clive Boyle if you are interested – 0421 348 569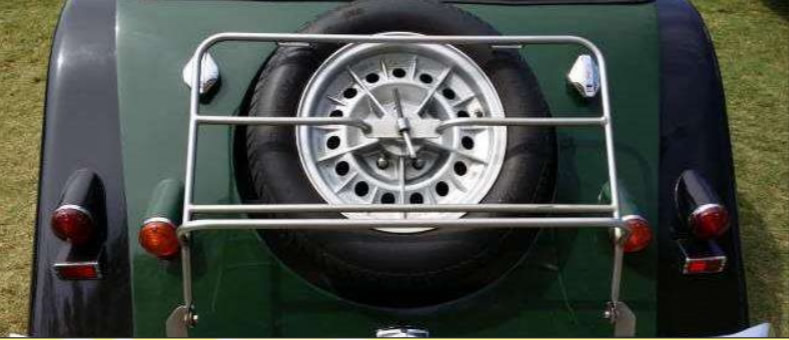 MOQ REGALIA
Measurements: 79mm diameter, 96 wing tip to wing tip
Price: $25 per badge + postage if required

Colours: Blue, grey, black or yellow brushed cotton caps with yellow trim around and metal fastener. Embroidered with Morgan Owners Queensland.
Price: $15 each + postage if postage required.

MOQ NUMBER PLATE SURROUNDS

$32 per pair

Sizes: Available in any combination wide and narrow.
Price: $32 per pair + postage if required

Options: Have your shirt and jacket embroidered with either of the logos.
Price: $10 per logo plus postage if required.

10th Anniversary Badge

$30

Price: $30 + postage if required